Stylish Plantation Shutters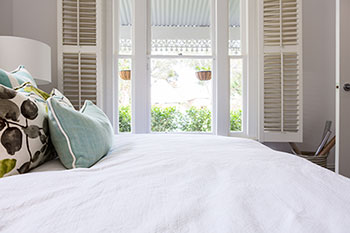 Installing shutters is probably the most effortless way to add a permanent, attractive upgrade to your living space. Here at Shutter Queen, we specialize in window shutters in Battleground, WA. This timeless design is a sound investment in the beauty of your home.
Plantation shutters feature wooden slats that fix over your windows. They allow you to control the amount of light coming into the room utilizing a tilt rod. Reducing direct sunlight prevents the sun's UV rays from causing your walls and floors to fade. Shutters are also useful for controlling privacy in any room.
Superior Shutters
More and more people are discovering the attractive design of window shutters. The time of Venetian blinds is coming to an end. There are many reasons to consider shutters for your home decor.
Blinds are a little boring, it's true. Blinds usually only come in plain white or beige. You can get shutters in virtually any color, and you can paint them whenever you like.
Blinds are dangerous. Those cords that you use to draw or lower the shades are a choking hazard. Kids and pets can get tangled up inside them. There's nothing to dangle off of our shutters.
Blinds are flimsy. Thin strips in blinds feature weaker material, and they can get torn or bent easily. Our shutters use real wood, which is stronger.
Working with one of our shutter experts can help you decide on the best shutter style and design for you! And while there are many benefits associated with having shutters, it is essential to note that they require more maintenance than blinds. The wooden louvers should be dusted and cleaned regularly to ensure your interior investment continues to look its best.
Shutters Save Money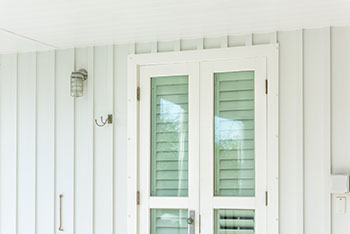 Custom plantation shutters are a fantastic addition to any home and allow you to personalize them to fit your style. Different colors and design options are available to provide unique looks for separate rooms in the house. They are easy to clean and save you money on your electricity bill. Having shutters installed in your home can also increase the value of your home because they are considered a hard fixture upgrade.
Shutters are not only an aesthetic upgrade but an economical upgrade as well. Because real-wood shutters are much better at insulating than regular blinds, they can help you save money on your electricity bill. A lot of heat gets lost through windows during the winter month but having your shutters closed helps to retain all of that heat. The same thing is true for the summer months when the sunlight is streaming through the windows and making the whole house hot. Keeping those shutters closed will help to block out the sunlight and keep the house cool.
Locally Made Shutters
At Shutter Queen, we make every one of our shutters right here in Vancouver. We even come to you for the installation. Not only that, but you can custom order plantation shutters to suit any window in your home or office.
We're so confident in what we make that we back up every set of shutters with a 100 percent satisfaction guarantee. Don't let your home suffer from the same style trends as everyone else on your block. Call Shutter Queen or fill out the handy contact form on this site to set up a free consultation.
---