Upgrade With Shutters
Looking for a way to upgrade your home without breaking the bank? Window shutters are the perfect solution. At Shutter Queen, all of our products are handmade from high-quality wood. They are a beautiful element to add to any home and can be installed one at a time to upgrade your whole interior slowly. For your next remodel, consider installing custom shutters and see the beautiful results that come with quality craftsmanship.
Shutters are not only an aesthetic upgrade but an economical upgrade as well. Because real-wood shutters are much better at insulating than regular blinds, they can help you save money on your electricity bill. A lot of heat gets lost through windows during the winter month but having your shutters closed helps to retain all of that heat. The same thing is true for the summer months when the sunlight is streaming through the windows and making the whole house hot. Keeping those shutters closed will help to block out the sunlight and keep the house cool.
Shutters VS. Blinds
Blinds are a common element in almost every home or residential building. The main reason for this is that they are cheap to make and install. Blinds are made in every size to fit all windows, making them an affordable and readily available option. But even though they are less expensive and abundant, they aren't necessarily better.
The flimsy metal and plastic in blinds make them easy to bend or break. At Shutter Queen, we use only real wood, not medium-density fibreboard (MDF), resin, or plastic, in our products. Using high-quality materials like this ensures our shutters will be durable and long-lasting.
Having regular blinds creates the ultimatum of having the blinds closed but the window open for airflow. The breeze catches the blinds, lifting them and dropping them back down, creating an unpleasant noise. With shutters, this isn't an issue. We measure, build, and install all of our shutters to fit perfectly in any window.
Blinds come with a cord that is used to raise and lower them. It's very easy for kids or pets to tangle them up into knots. The louvers on shutters are all attached to a tilt rod for more natural and safer opening and closing.
Shutters are a lot more customizable than blinds. Many accessories can be added on to create a personalized look. Locks, hinges, and shutter dogs are all sold in different colors and designs to create unique shutters.
Local Shutter Installation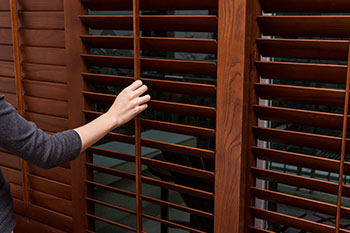 When you need shutters in Beaverton, look to Shutter Queen. We make our products locally at a factory in Vancouver. You get the pride of owning a genuinely well-crafted piece and supporting skilled merchants. Our products are available in custom sizes and designs to fit any style and shape windows. From large bay windows to arched windows and everything in between. We install them ourselves to make sure that they are a perfect fit. A wide variety of colors is also available to complement any home design.
Don't settle for big-box blinds. We back up all of our products with a 100 percent customer satisfaction guarantee, so there's no risk to you. Make your home even more beautiful with shutters from Shutter Queen. Give us a call or fill out the handy contact form on this site today for fast installation.
---