Decorative And Functional Shutters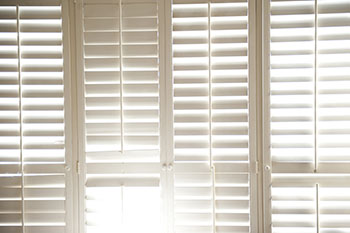 When you think of decorating your home, what pops into your mind? Painting? Laying down carpet? Hanging pictures? What about installing shutters? Here at Shutter Queen, we're your trusted expert when it comes to shutters in Camas.
Shutters allow you to control the level of light in your home. Turn the slats up for nighttime privacy, or turn them down to let in more light. The slats are all set on a single rod so you can open or close them with minimal effort. Shutters are suitable for any room of your home, including large bay windows to small bathroom windows, and every other size and shape.
The wood construction allows you to paint and repaint the shutters to the color that you want — updating your decor in a way that keeps every element of the room coordinated together. Shutters are a far more versatile option for home or office decoration than regular blinds.
Shutter Design Options
Our craftsmen and experienced staff will work with you to decide on the style, design, and color of your shutters. Different elements will provide unique looks suited for modern, traditional, and contemporary homes. There are many more options available for shutters than there are for blinds.
Shutter Louver Size
The louver size can make a massive difference in the appearance. The louvers are the wooden slats on the shutters, and the louver size is the amount of space between each louver. The most common size is 3 1/2 inches and 4 1/2 inches. Large louver sizes are better suited for tall windows, and smaller sizes are less standard but used for more contemporary designs. Depending on the look you are going for and the current configuration of your home, our craftsmen will work with you and suggest individual styles.
Shutter Tilt Rods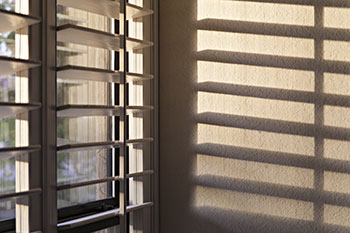 Another essential factor of plantation shutters is the tilt rod. A tilt rod is a pole that is connected to all of the louvers, controlling their movement. Traditional tilt rods run down the center of the shutters for easy access. Hidden tilt rods have become more popular and provide a more modern look. The tilt rod is hidden behind the louvers on one side. To open and close these shutters, you manually move one of the louvers, and as they are all connected by the hidden tilt rod, they will all move together.
Local Shutter Company
The shutters that you get from Shutter Queen are made locally in our factory just over in Vancouver. We use only real wood, not MDF particles, to create them. The result is a product that's strong and durable, and which bears the seal of authentic craftsmanship. The bespoke options let you specify the size and dimensions that you need, and then we build them to suit your windows.
There's no risk to you since we back up every piece that we install with a 100 percent customer satisfaction guarantee. Don't go another day without the dream setup that you want for your home. We measure, build, and then install your custom shutters. If you are looking for the company with the skills and over 20 years of experience providing Camas residents with new shutters, come to Shutter Queen today! Call us or fill out the contact form on this site to schedule a free consultation for getting shutters in Camas.
---