Professional Shutters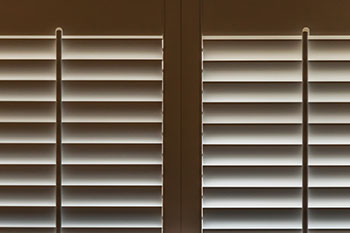 The amount of light that is allowed into a room can have a dramatic effect on the look and mood. Plantation shutters not only allow you the better control the light that is let in, but they are more secure for adjusted privacy. Regular blinds are flimsy and cast many shadows around the room. Shutters have large louvers that can be angled to let the most amount of light in or tightly closed to block it out.
At Shutter Queen, our team of craftsmen works hard to provide La Center residents with beautiful custom shutters. Depending on the size and shape of the window that you want shutters installed in, our team will build the appropriate shutter design. Windows aren't the only application for shutters. We can also install shutters on doors and sliding doors.
Shutter Versatility
Different shutter layouts are best suited for certain types of windows and doors. The five designs include full-height, half-height, top opening, track-mounted, and shaped.
Full-Height Shutters
Full-height is the most popular layout which features louvers from top to bottom. It is recommended to use this layout for wide windows.
Half-Height Shutters
This layout is not recommended for wide windows because it will make them appear even wider. It is also essential to match the color of the shutters with the color of the window as they will both be visible at the same time. This design is popular in Victorian-style homes.
Top-Opening Shutters
This layout is great for tall and narrow windows. Because the windows are tall, the shutters will be split in the middle by a rail that helps support the structure. All of the shutters will move independently from each other and will typically open left, left, right, right.
Track-Mounted Shutters
For doors and sliding doors, track-mounted shutters are the solution. This style includes multiple shutters installed on a track at the bottom and top of the door frame. The weight is evenly distributed, which means the number of panels can be anywhere from 4-12 depending on your design preference. For smaller doors, the shutters will slide sideways, but for larger doors and more panels, they will slide sideways and fold together.
Shaped Shutters
These shutters are the most unique because they are custom to fit any unusual window shapes. Triangles, arches, and other atypical window designs need specially shaped shutters. These are not as common as traditional shutters and are less functional because they can be challenging to open depending on the size.
Split-Tilt Shutters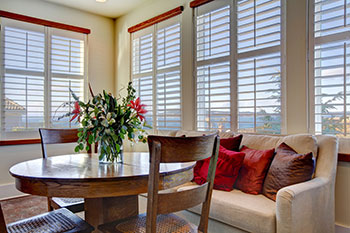 Besides their beauty, shutters serve a functional purpose as well. Maintaining and controlling light and privacy. Split-tilt shutters are beneficial for this purpose. By separating the top few louvers with the remaining bottom ones and using separate tilt rods, the top and the bottom portion can be controlled independently. This style is favorable for bathrooms or bedrooms where more privacy is wanted, but a decent amount of light can still be let in through the top.
High-Quality Shutters
At Shutter Queen, all of our products are handmade at our store in Vancouver, WA. We only use high-quality products, which means none of our shutters are made from medium-density fibreboard (MDF). Many online stores and cheap shutters are made from this material. While MDF may look the same because it is painted the same color, it is much weaker than real wood and will sag and bend over time. Our shutters are sturdy, durable, and long-lasting.
No matter what size or shape of windows you have our experienced craftsmen will build and install your custom shutters just right! We're so confident in our product that we back up everything with a 100% customer satisfaction guarantee. For La Center residents looking for quality, custom plantation shutters, you know who to call! Visit Shutter Queen today for a free consultation!
---