Designer Window Shutters
When you move into a new space, it's not entirely yours until you put your stamp on it. One easy way to do this is to install custom plantation shutters. These pieces are the ideal balance of practical and beautiful when it comes to home decor. Interior shutters are a permanent addition to any room. They feature wooden slats on a vertical tilt bar; this allows for optimal control of both light and privacy.
At Shutter Queen, we specialize in a variety of styles and designs to create shutters for any Lake Oswego homeowner.
Superior Shutters
More and more people are discovering the attractive design of window shutters. The time of Venetian blinds is coming to an end. There are many reasons to consider shutters for your home decor.
Blinds are a little boring, it's true. Blinds usually only come in plain white or beige. You can get shutters in virtually any color, and you can paint them whenever you like.
Blinds are dangerous. Those cords that you use to draw or lower the shades are a choking hazard. Kids and pets can get tangled up inside them. There's nothing to dangle off of our shutters.
Blinds are flimsy. Thin strips in blinds feature weaker material, and they can get torn or bent easily. Our shutters use real wood, which is stronger.
Shutter Considerations
When you are considering your options for window treatments, it is ideal for contemplating the many factors that are associated with different choices. You should never cut corners when it comes to shutters or window treatments in general. Low-quality shutters will result in a lower-grade appearance and lifespan. Because shutters are considered a permanent window treatment, it is recommended to work with experts like the craftsmen at Shutter Queen. We install the highest-quality shutters that will not only look great but last for many years.
Other window treatments like blinds are simple to install and generally don't require professional installation. But blinds are not an ideal long-term solution. Our shutters are custom made and measured precisely to fit each window perfectly. Having them installed by an experienced craftsman ensures that your investment is safe and effective.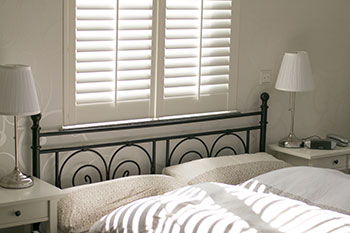 Depending on your personal needs and lifestyle, shutters are the better choice for many reasons. Those with children or pets can find security in shutters because they don't have loose strings and other easily broken parts. There is also the design element to consider. Blinds are typically sold in white or very few different neutral colors. And while you can add colorful curtains, blinds limit you to a few simple looks. Shutters are made with natural wood and can be stained or painted any color you want. Just like changing the color of your walls, you can change the color of your shutters. In recent design trends, bright colors are becoming increasingly popular. And some people are painting their interior window shutters a bright, contrasting color that makes the room pop!
Working with one of our shutter experts can help you decide on the best shutter style and design for you! And while there are many benefits associated with having shutters, it is essential to note that they require more maintenance than blinds. The wooden louvers should be dusted and cleaned regularly to ensure your interior investment continues to look its best.
The Best Wooden Shutters
Here at Shutter Queen, we make our own product. It's entirely made in the USA, over in Vancouver. You can get them custom ordered to any dimensions that you need. Just give us a call or fill out the contact form on this site to get your new window shutters delivered and installed. Thanks to our 100 percent customer satisfaction guarantee, they're a risk-free investment.
---