Custom Shutters in Portland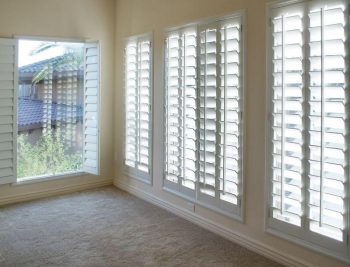 Plantation shutters got their name from the Southern states where they originated. They became so prevalent for homes in that area because of their ability to regulate the temperature inside. Keeping a home warmer in the winter months and cooler in the summer made these invaluable to every homeowner in the south. Now with in-home air conditioners and heaters, the use of insulating shutters has become less frequent. But there is no denying that real wood shutters are still quite beneficial and undeniably beautiful.
Blinds have become the most common window furnishing because they are very inexpensive and versatile. But they are flimsy and can look tacky in homes, especially when they break or only lift on one side. Real shutters are fitted perfectly to your windows and can be stained a variety of colors. They not only allow you to control your light and privacy better, but they add such a pleasant feel to any room. Shutters are a simple way to add timeless beauty to your living space. The crafters and salespeople here at Shutter Queen are ready to help Portland homeowners get the shutters to match any home design.
Benefits of Shutters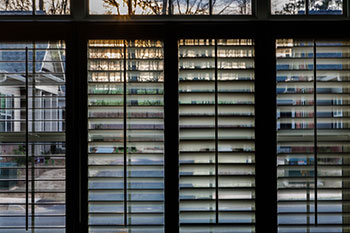 The amount of benefits that come with having shutters is almost unreal. Almost every home, apartment, condo, and every other residential building come with those typical white blinds installed. Everyone that has had these has had to deal with all the problems associated with them. When you want to have the window open with the blinds closed to get that cool breeze but still maintain privacy. Until that cool breeze starts blowing the flimsy blinds all over the place. Or trying to get that string to pull the blinds up and lock in the right place, or the string getting tangled and tied into knots. When children or pets are playing with the blinds and break one of the white, plastic slats. You don't have any of these problems with shutters. There are no strings or flimsy parts. At Shutter Queen, we install custom, sturdy shutters to fit perfectly into any window. And the benefits associated with them are plenty.
Privacy
Light Control
Safe To Use
Durability
Aesthetics
Adds Value
Custom plantation shutters are a fantastic addition to any home and allow you to personalize them to fit your style. Different colors and design options are available to provide unique looks for separate rooms in the house. They are easy to clean and save you money on your electricity bill. Having shutters installed in your home can also increase the value of your home because they are considered a hard fixture upgrade.
Locally Made Shutters
All of our shutters are made on-site, just across the river in Vancouver, WA. We don't import any of our materials; you get real, American-made shutters every time. We're very proud of our natural pieces, so much so that we back them up with a complete satisfaction guarantee. All of our shutters are made from real wood, not medium-density fibreboard (MDF).
Our products are available in custom sizes and designs to suit any bedroom window, large bay windows in the living room, and anything else in between. We install them ourselves to make sure that they are set up correctly. A wide variety of colors is also available to complement any home design. Don't settle for big-box blinds; give us a call or use our contact form to set up a consultation today.
---