Gorgeous Shutters in Portland
As someone who really cares about how your home looks, there's no element too small to overlook. Shutters are a classic way to add timeless beauty to your living space. The team of crafters and salespeople here at Shutter Queen is full of the top experts on shutters in Portland.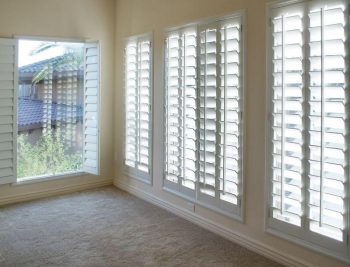 The Benefits of Shutters
Besides their attractive design, shutters are also a practical addition to your home.
Privacy: Shutters are adjustable so you can keep prying eyes from looking in on your home.
Light Protection: UV rays from the sun can cause damage inside your home. They make the color of floors, furniture and walls fade away from extended exposure.
Durability As opposed to flimsy plastic blinds, our wooden shutters hold up to use over time.
Safer to Use: Unlike blinds, whose cords are a choking hazard to kids and pets, our shutters are cordless.
The Most Beautiful Shutters from Portland
All of our shutters are made on-site, just across the river in Vancouver. We don't import anything; you get real, American-made shutters every time. We're very proud of our natural pieces, so much so that we back them up with a complete satisfaction guarantee. When we say wood, we mean wood, not MDF particles. This is the real thing- strong, sturdy and sustainable.
Our products are available in custom sizes and designs to suit your small bedroom window, a large bay window in the living room and anything else in between. We install them ourselves to make sure that you're set up correctly. You can get them in multiple colors to more readily coordinate with your home or office. Don't leave the look of your space to big-box blinds; give us a call or use our contact form to set up a custom blinds order today.