Interior Plantation Shutters in Camas
It doesn't take much to update your interior decor. A few easy additions can transform your home into something new. One fantastic option is a set of shutters from Shutter Queen.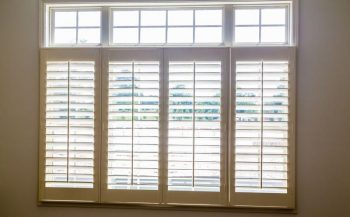 What Exactly are Window Shutters?
This type of shutters installs over your windows and give you total privacy from anyone looking into your home. They have a toggle that allows you to open up the slats to allow in light during the daytime. Our shutters have a timeless design in that you can effortlessly coordinate them with many styles, from Colonial to Classical, Modern, and more.
If you're not all that concerned with changing the look of your home, you might wonder why you should make the switch from blinds. Plantation shutters have many practical advantages over standard options.
Durability: Regular blinds feature thin and flimsy metal strips. Here at Shutter Queen we use real wood pieces. Not plastic, not particle board, but the real thing.
Paintable: If you have blinds installed, you have to get a new set if you ever want to change things up. You can paint and repaint wooden shutters as you like.
Locally Made: Yes, your plantation shutters in Camas actually come form Vancouver. We make them in our factory and sell them directly to you.
Trust Shutter Queen for Window Shutters in Ridgefield
You can get a decent set of plantation shutters from many sources. The best ones come from us at Shutter Queen. We offer a 100 percent satisfaction guarantee so you can buy without any risk. Do you have a non-standard size of window? All wee need is the measurements and we can make up a custom shutter.
Once it's ready, we even come to you and perform the installation. There's no reason to go another day without the home interior that you want. Give us a call or use the contact form on this site to set up a free consultation and get your shutters today.